Mackintosh Fruit Farm is a family owned pick-your-own farm nestled in the beautiful Northern Shenandoah Valley in Clarke County,Virginia. Natives of Clarke County, we are now farming the land where Bill grew up. We started in 1988 with apple and peach trees. Since then we have added many more varieties of fruit trees and berries, and a wide variety of vegetables. In 2003 we began taking our produce to the Clarke County Farmers' Market where we enjoy meeting and talking with our customers.
Our variety of selections allow us to extend our customers picking season by having early, mid, and late season varieties. For example we start picking peaches in early July and will have varieties ripening through early September. We have over twenty varieties of peach to make this possible. In the peak of our season, mid August, we will be picking berries, peaches, apples, pluots, along with our expanded vegetable acreage.
Our goal for Mackintosh Fruit Farm was to find fruit varieties that have amazing flavor and texture and grow them on dwarf trees that can be picked easily from the ground. We combined our favorite varieties with size controlling rootstocks. This is done by grafting selected varieties on a root system that will allow us to plant a tree that is smaller when mature, easier to pick, and is known for producing larger tastier fruit.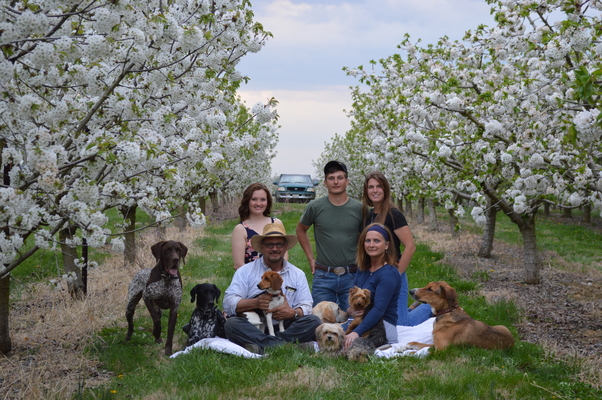 At Mackintosh Fruit Farm we are committed to maintaining and building a nutrient rich living soil with all of Mother Nature's microbes that turn our organic matter into nutrients available to our trees and plants. We are fortunate to have a calcium rich limestone soil providing much needed calcium improving disease resistance and fruit quality. Limestone soil is usually a heavy soil that holds lots of nutrients, but doesn't always like to make them available to our trees. We overcome this by adding organic matter. This improves air movement and nutrient availability of the soil. We use a combination of green grass crops that are plowed down while they are still tender, leaf compost, and grass compost to build organic matter.
We would like the opportunity to introduce you to some of the best tasting fruit that you have ever eaten. Truly tree ripe fruit cannot be shipped so many people never have the chance to eat fruit at its peak of perfection. Come enjoy our sweet, juicy, tree ripened fruit that you can only enjoy to the fullest during its peak of maturity.  This is a great time for families to discuss how our food is grown and where it comes from with the shorter members of the family.