Mackintosh Fruit Farm Bee Apiary
Welcome to the Mackintosh Fruit Farm bee yard (apiary). This year we have Rusty Foltz – a local beekeeper – managing 22 beehives at our farm. The hives are located in the back portion of our farm.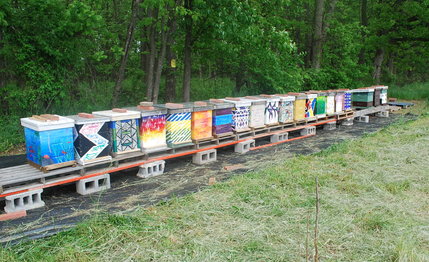 The bees will help maximize pollination of our fruits making for more and larger fruits. As most of you know the bees also provide us with delicious honey. Our honey will be natural, raw and unprocessed.
Mark your calendars for National Honey Bee Day – Saturday, August 19, 2017.
Make sure and visit us for activities celebrating what bees do for us. We'll have honey for sale, honey desserts, and door prizes.
10:30 am                   Hayride

12 pm                         Extraction

1:30 pm                     1st tour

3 pm                           2nd tour