Sweet Cherries!
A reader asked us on Facebook, "What do you do with sweet cherries?"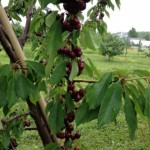 Eat them!
You don't have to doctor these up at all to enjoy their fresh picked flavor.  AND, I bet you don't need as much sugar in your recipes if you are baking with them.
Dark Sweet cherries are generally available from end of May to the middle of August with peak season from June – July.
We grow seven varieties: Rainer, Benton, Ulster, Regina, Summit, Chelan and Royal Ann. Our varieties are sweet dark cherries except for Rainer which is low in acid but sweet.
Good-quality Dark Sweet cherries should be large, firm and have a deep lustrous red color. Their flavor profile is sweet with a touch of tang.
Cherry crumb pies…mmmm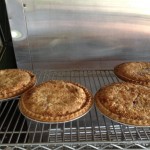 Cherry trees in bloom!