Sep 9, 2017
07:00 PM - 09:00 PM
Enjoy the bounty of Mackintosh Fruit Farm. Our personal chefs collaborate to create menus featuring just-harvested fruits and vegetables from our fields, prime meats, and homemade desserts. It is sustainable eating at its best!
Register early for dinners, seating is limited and fills fast. Meals are $40 per person.
Please prepay using the Pay via PayPal  button to secure your seat(s) after completing your registration.
Menu
Soup – Roasted corn chowder
Salad – Sweet chili paw-paw and pineapple salad
Entree – Beef, chicken, & shrimp kabobs over rice with veggies, topped with arugula pesto
Dessert – Apple crisp stuffed baked apples with paw-paw ice cream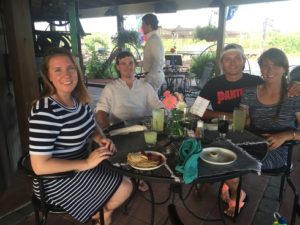 Location

Mackintosh Fruit Farm
1608 Russell Rd
Berryville, VA 22611



Get Directions