We get lots of questions by phone, email, FB, and in person. We'll try to answer many of them here for you!
When are we open for picking?
We are closed for the 2017 growing season. We will open sometime in May of 2018.  When we do it will be Wednesday through Sunday from 8 a.m. to 6 p.m.  The dates do get adjusted according to weather and growing conditions. We will let you know sometime in May when our opening date will be. Get on our email notification list here to be the first to know!
Do you have bathrooms on site?
Yes, we do!
Can we eat lunch there?
Absolutely!  Feel free to bring your own snacks – we have tables and chairs.  Or, stop by our lunch counter and order up something to eat or a yummy dessert. Our menu is available to order from all day, not just "lunch hours," whenever you are hungry and ready to eat. Here are just a few of the items we have available: Hamburgers, hot dogs,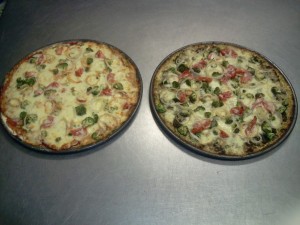 cheeseburgers, pulled pork sandwiches, chicken salad sandwiches, grilled chicken sandwiches, BLTs, quiche, zucchini crust pizza (with cheese, tomatoes, squash), Mexican dish – shredded chicken, refried beans, and chorizo; french fries, rice, cucumber salad, corn on the cob, applesauce, ice cream, sundaes, shakes, pies, and more!
Are dogs allowed?
Absolutely! In fact one of our customers asked this question on our FB page: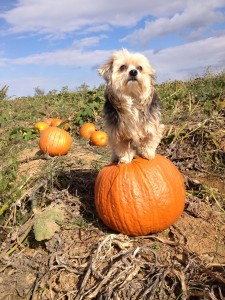 "Do you allow dogs to your farm just to buy stuff?"
The dogs are welcome to buy whatever they like. They should expect to receive their items in a doggy bag. Just sayin'. Please have your dog on a leash when possible as not all of our customers are dog lovers.
What about cats?
If you can get a cat to walk with a leash in a public place, then you are a rockstar. Bring that kitty over for some fresh pawpaw ice cream.
I've never picked fruit before, how do I know when it's ripe enough?
Great question! We have many first time pickers to the farm and we will happily explain to you the best way to pick your fruit of choice.  Picking fruit or vegetables too small or unripe doesn't allow the produce to ripen to it's juiciest of flavors and that's what picking your own food is all about. We grow all of our food to have the best flavor when freshly picked, not shipped thousands of miles away.
What do I do with all of this yummy food now that I've picked it?
This is also a common, but great, obstacle when picking your own food. It's so exciting, like hitting the food lottery. We suggest looking up some recipes before you come so you have an idea of how much you might need to bake pies, make jam, or can or freeze or make salsa with or or or or or or or!
Check out our produce pages or the Farmer's Blog for some ideas. Of course, we also love to hear what you've been making at home – pics are great too. Jason and Emily share what they are baking from the fruits picked at Mackintosh at their blog The Artist's Kitchen. Check them out!
Do you have specials?
We will have specials when we have an abundance of a particular product and usually offer a lower price if you pick your own or if you pick a larger amount, usually 25 pounds or more. These specials will be announced on our web site below our weekly updates, posted on Facebook, and announced in our email newsletter. Sign up for weekly updates here.
Do we have to pay for the berries and tastes tests that we make while out in the field picking?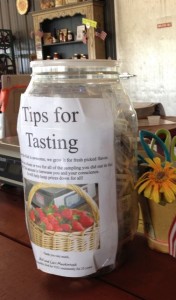 Well, that's a tricky one. We grow our fruit for fresh picked flavor so it is understandable why you would want to taste it before you buy it.
Here's the thing, essentially every berry you eat without paying is, well, stealing. We like to keep our prices low enough to allow everyone the opportunity to eat food grown locally and picked with your own two hands. So, we have set up a Tips for Tastes jar at the cash register.
Feel free to throw in a dollar or two or whatever amount relieves your conscience of the tastes you made in the field. This will help keep everyone honest and allow us to continue to operate our family farm. It is a family business after all, not a family charity.
Are you organic?
We do use some organic pest control options, but wanted to be able to take advantage of some of the new pest management options, like mating disruption, that haven't been accepted by the organic association. We were disappointed to find out about all of the 100's of pesticides that the organic growers can use these days, including antibiotics for bacterial diseases. Our goal is to raise nutritious foods in an atmosphere that allows good bugs to help us decrease the number of bad bugs along with pruning and mowing to promote good airflow through the orchard. The airflow decreases the amount of rot that can affect our fruit. We also use trickle irrigation under all of our trees. This allows us to reduce their stress level during the heat of the summer making them healthier and more resistant to harmful organisms. In addition, irrigation allows our nutrient rich limestone soil to continue feeding our fruit trees while non-irrigated fruit trees would be limited on their nutrient uptake during dry periods. We truly feel that the fruit raised at Mackintosh Fruit Farm is among the most nutritious and safest available.
Why do your Honey Crisp apples have more flavor than the ones in the supermarket?
We receive this question on a regular basis and there is some science to this answer, it's not just us.
A large part of the fruit in our supermarkets is shipped in from the West Coast, where the apple trees are grown in sand. It is almost a hydroponic situation, where all of the nutrients and water have to be added artificially and it's hard to outdo Mother Nature. The West grows the prettiest, smoothest skinned fruit I've ever seen, but compare the flavor and I think you will side with Mother Nature.
Locally, our soil is comprised of the best combination of nutrients to produce a great tasting apple. There are only a few places in the country that are fortunate enough to have dolmitic limestone soil. Most limestone is very high in calcium, but dolmitic limestone is high in both calcium and magnesium. Calcium and magnesium, which are critical for fruit firmness and flavor, are needed in very high amounts, in Honey Crisp trees and fruit. Without these critical elements Honey Crisp fruit quality will never reach its full potential. As much as I would like to take the credit for this it is really good old Mother Nature again.
More Questions?
Please email us here: lori at mackintoshfruitfarm.com with your questions. We'll get the question and answer posted on the FAQ page as soon as we can.  Happy picking!