Also known as pawpaw, poor man's banana, and hoosier banana, the pawpaw is the closest thing to a tropical fruit that you can find growing in Virginia. It is like eating custard and it has twice the sugar of an apple or peach. It boasts 5% protein and is high in vitamins A and C along with many minerals.
Pawpaws are great when eaten fresh and they make some of the creamiest ice cream that you have ever tasted. In September, we'll have them available to taste, purchase in the market, or try as pawpaw ice cream.
Chilled pawpaws were one of George Washington's favorite desserts.
We are lucky to be able to supply Neal Peterson's patented varieties that have fewer seeds and excellent flavor.
Our Pawpaws in bloom!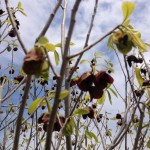 "A skilled storyteller, Moore delves deeply into the world of pawpaws while managing to hold the reader's interest through detail after detail."–Guy Sternberg, The American Gardener