Oct 28, 2017
08:00 AM - 06:00 PM
Join us at Mackintosh Fruit Farm Saturday, October 28th and Sunday, October 29th for our final weekend of 2017!
In order to make your trip to the farm worthwhile we will be offering a selection of some of your favorite apples at discounted prices. We are also going to have several varieties available for taste testing. The one that I am most excited about sharing is Evercrisp, a cross between Honeycrisp and Fuji. It has the perfect combination of traits from both parents, making it the most exciting new apple variety since Honeycrisp. Will it be your new favorite? Let us know what you think.
The taste testing station will allow you to compare the following varieties:
Evercrisp, Crimsoncrisp, Honeycrisp, Pink Lady, Fuji, Stayman, and Golden Delicious
Farmer Bill will be available during the taste testing to answer your apple questions. Have you ever wondered how new apple varieties are developed or how the design of today's apple orchards have benefitted both grower and consumer? If you plant a seed from a Fuji apple and grow a tree, what kind of apple will the tree produce? The answer may surprise you. What are the best apple varieties for home owners to grow? How do we keep worms out of our apples without chemicals?
Apple varieties available for purchase in our market this weekend:
Pink Lady, Fuji, Stayman, Crimsoncrisp
We will be making fresh apple cider Saturday morning. Our first cider pressing Saturday morning will be a blend of Honeycrisp and Pink Lady apples. The 2nd batch will be a combination of Fuji, Pink Lady, and Honeycrisp. Come early and watch our 'nothing but apples' apple cider being pressed.
We may be running low on pick your own apples, but we have plenty of apples in our market. This is a great time to take advantage of our end of season apple sale and stock up on apple varieties that store well in the fridge for 2 to 3 months.
Come enjoy some hot cider and a warm apple cider donut while stocking up on your winter apples.
We look forward to seeing you at Mackintosh Fruit Farm this Saturday and Sunday,
Bill and Lori Mackintosh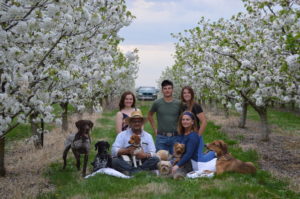 Location

Mackintosh Fruit Farm
1608 Russell Rd
Berryville, VA 22611



Get Directions